Expert Kennel Advice
at Your Fingertips
Membership gives you instant access to premium content in our Members area, including:
Specialist advice & information
The Members premium content area is full of tips, information and guidance on kennel related issues.

Perhaps most importantly to our Members, is the ongoing support and expertise we are able to offer them, whether thinking, seriously considering, property hunting or the site location, design and build.
"What can I say, I'm so touched.
The amount of support, encouragement, and aid you offer is amazing. You have helped me so much,
I really can't even express it"

Stephanie George, Florida USA


We got Zoning Permission for our boarding kennels!
---
Your Own Personal Queries Answered
Members enjoy the added peace of mind of being able to phone or email their specific kennel queries to us. Many do this just to bounce ideas, get reassurance that they are following the right course, or help with their architect/ builder/ surveyor's queries.
"It's great to know we have contact with an expert in this field.
There are a lot of pitfalls we were unaware of - until we found the site"
"Well we're very excited as you can imagine and all of a sudden there seems so much to do. We feel really positive about our kennels and can't wait to be open!
Thank you again for being so lovely and so positive every time I speak to you, I really don't know if we could have done all this without your help and support.
It is so reassuring to have someone like you, with your knowledge and enthusiasm, to speak to anytime we feel negative or need a vital piece of information.
I will be in touch again soon with pictures of the build. Thanks a million for everything!"
Jackie Ferrier, [www.CanineCountryClub.co.uk] Cornwall UK, July 2006

---
5 Guides
Business Plan
Excel spreadsheet with built-in calculations on income, expenditure and statistics for your catchment area, dog owning statistics & helps you prove the need for your business.

A great place to start 'playing' with the idea of starting or upgrading kennels

Is it for me?
What to think about when you are considering starting up a kennels. Helps you think through major issues & the lifestyle/ income changes it will bring.

An excellent base for getting together your future marketing materials!

Property Audit
How to look at potential properties with an expert eye to assess their suitability for you. A wonderful aid for looking at building new kennels on existing land - or land you are looking at purchasing - or for existing kennel businesses.

Assess & compare different properties/land and help with decision-making for your best choice of property

Developing your Requirements - helps you think through the design of your facility (written for larger organisations/charities/rescues but useful to everyone)

Property Costs Checklist - a very simple checklist of areas you will need to think about for getting costs. This is just a 'starter' list of items to get your head around - as you're probably not going to be ready for detailed quotations yet (you'll need your property, ideas, business research and kennel design first!)
"We thank you so very much for your help, the information & more. You have no idea how much this means to us, your website is fantastic"

Fernando Pereira, Florida USA, Oct 2006
---
22 Articles
Dog Welfare:
The Caring Kennel: Minimising Stress for Kennelled Dogs
Environment Enrichment in Kennels to reduce stress
Overcoming a Bad Kennels Experience Case Study
Welfare Case Study
Using Network Cameras to Monitor Your Workplace
Self-serve Dog Wash
Buying & Financing Kennels:
Build new or buy existing kennels business - a fundamental question and one which has a big financial impact - should you build kennels from scratch - or buy an existing business
Buying an existing kennels business - tips for buying an existing business
Building Kennels Abroad Case Study - a story about moving to Normandy, France and building kennels
Financing a Kennels & Cattery Business - tips for getting finance for a kennels business
Site location and Purchase, Planning/Zoning - tips when looking for a site to purchase, and planning/ zoning considerations
Places to visit - a few options for places to get ideas
Design, Build & Constructing Kennels:
How to Find an Architect or Surveyor specialising in Animal Facilities
Legislation
Development of Design - site layout, buildings etc
Kennel Design
Finishing Details & Materials - flooring, walls
Caging Systems - bar & mesh, partitions, hatches
Noise & Acoustic Measurements - acoustic measures, nature, levels, intensity, animal welfare
Site Drainage & Disposal Systems
Project Management - what to get straight before you go for planning permission
Heating - different systems available
"Your internet site is absolutely fantastic, offering all sorts of information,
help and advice"

Colin & Carol Paterson, Melbourne Australia, June 2004
---
Ideas
Photo Library to give you lots of ideas. Explanations show you exactly what to look for, and learn from, every photo
"Thanks for the vote of confidence!
Your excitement and encouragement really keep me going, so many times. I don't think our dream (piece by piece) would ever become a reality without you guys. Thank you, thank you for all that you do."

Stephanie George, Florida USA, Oct 2004
---
Questions & Answers:
Read others' problems/ questions and our answers
(a great way to learn about what you do & don't want - and a fascinating read and insight)
"Very informative - I am frequently hitting the site to help achieve my dream"

Mel Mitchell, Derbyshire UK, May 2005
---
Our Guarantee
We're so confident that you'll benefit from being a member (just read 100+ Customer comments, thank-you's and recommendations to see why) that we'll refund your membership fee within 30 days if for any reason you don't want to continue.
So there's nothing to risk and everything to gain - get instant access to indepth kennel-related information & advice to help you make your important kennel decisions!
We currently have Members in the following locations:
UK, USA, Canada, Australia, Ireland, Spain, France, New Zealand, Cyprus, Bahrain, Kuwait, Qatar, Romania, South Africa, Philippines, Thailand
To continually develop this site with current information, photographs, legislation and ideas, we need your support as much as you'll need ours!
---
Hi Kay,

Id like to say a big thankyou to you and David for all you guidance.. help and support throughout the whole process of building gentianhill boarding kennels. Without your guidance I'm sure we would have struggled to have been such a huge success that we are today.

Within such a short time we have already had to expand due to such high demand!! We are told regularly that our customers refuse to board anywhere else.... quite often booking their holidays around my diary!!!

We have people from hundreds of miles board their dogs and from abroad also.

We are at ground level with our kennels expansion at the moment and we have yet again hit really bad weather!!! We hope to have the build complete by early August 2007 fingers crossed, and with good weather hopefully at some point I can get you some more pics!!!

There are 4 of us working at Gentian Hill now so we have myself, Amy.. Dionne and Debbie, we can now offer identi-chip and we are hoping to have onboard police dog handler Ross who is training in animal behavior.

We strongly support other kennels following the same build and design as ours who have also sought yours and davids help and advice with their own builds. As you know we are all the best designed and built kennel establishments in the southwest of England and we still get lots of calls from England and abroard for help in setting up new businesses.

Your advice throughout all of this has helped me greatly over the last 3 years and you are both the most genuine, kindest, and committed people in your desire to create a better world for all our furry friends.

With genuine love from your dear friend Jane xxxxxx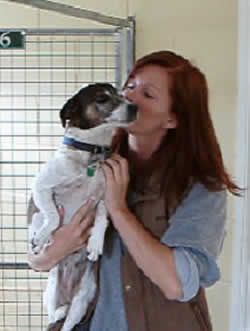 Jane Cole, [Gentian Hill Boarding Kennels in Cornwall] UK
(read about [Jane's build and updates click here])
What our Members say:
Membership costs & how to join - none currently available